Why Do People Love Invisalign?
With the discreet look of Invisalign, no need to worry about wedding photos, senior pictures, or ever having to think about hiding your smile in a picture!

You can easily do more: With Invisalign, it's easy to play musical instruments, sing, perform, and do other activities!

No emergencies: each aligner is made from a custom-formed thermoplastic that you can take off at any time. You never have to worry about accidents and emergency visits from broken brackets and wires.

Because you can easily progress through the Invisalign aligners on your own, fewer appointments at our office are required.

Simply remove your aligners to eat and drink, so you will have no food limitations during treatment.

With our advanced digital scan technology, you can watch your progress and see the end result on the Invisalign site.

Invisalign aligners have been found to be more comfortable and create less irritation to the sensitive cheek and gum area.
Who Can Use Invisalign?
Just about everyone! Invisalign has continued to improve its technology and processes so that today, nearly anyone can choose Invisalign instead of conventional braces. Our office will assess your specific case at your initial consultation and determine whether you are a prime candidate for Invisalign.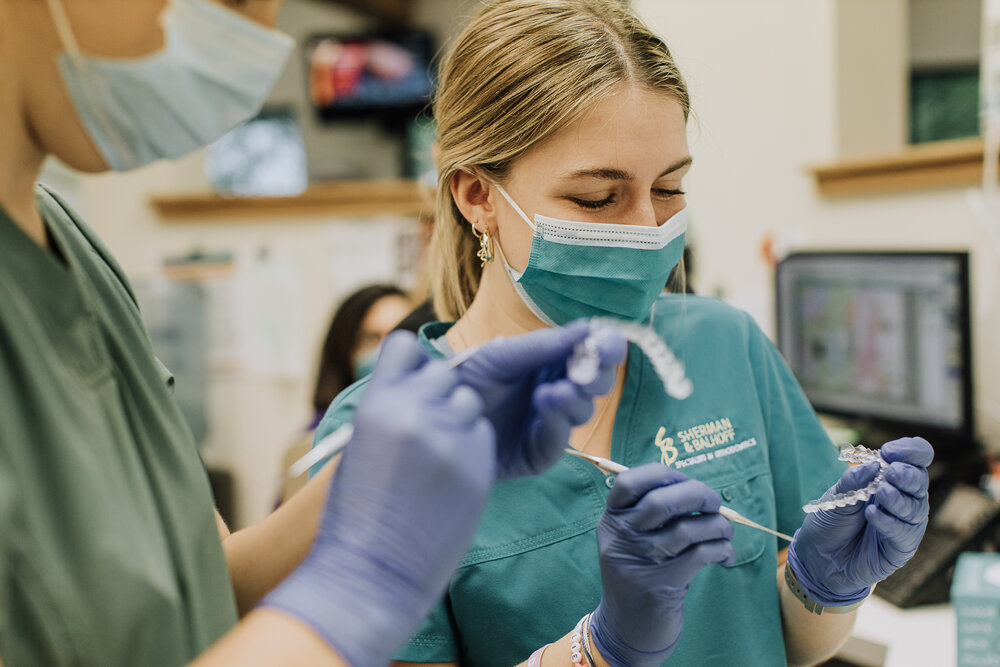 Who Can Provide Invisalign?
Only select orthodontists can provide great results with Invisalign—and not only are both Dr. Sherman and Dr. Balhoff specialists, but they are Invisalign Elite Providers, which is the highest level of expertise possible.
Invisalign offers four levels for its providers, Preferred, Premier and Premier Elite, and Diamond based on how many patients they have treated with Invisalign. For a top-level experience, you should choose a provider with the distinction of being a Diamond Orthodontist. At Sherman & Balhoff Orthodontics, we are the highest skilled and the only Invisalign VIP: Diamond Provider in the Baton Rouge area!
How Easy Is Invisalign?
The process of Invisalign is very simple. With iTero digital scanning, there are no gooey impressions to bite down on. You simply relax while we do an easy 3D scan. Since the images are immediate, you spend less time waiting for results and more time getting your smile perfected!
It Costs More Than Braces, Doesn't It?
No! In most cases, the cost of Invisalign is comparable to that of traditional metal braces. At your initial consultation, we take time to review your entire treatment plan, including a breakdown of the costs associated with treatment. Check out our online payment calculator for an estimate of what your payments could look like.
If I'm A Parent, How Do I Know If My Child Wears Their Invisalign Aligners Like They're Supposed To?
It's hard to hide if your child is not wearing their aligners as they should. With every visit, we can accurately track usage, using a system of compliance indicators that are embedded directly in the aligners. They can't cheat technology! Not only does Invisalign Teen have compliance indicators built-in, but it also includes up to 6 free replacement aligners.