FOUR IMPORTANT ORTHODONTIC TOPICS THAT ALL PATIENTS SHOULD KNOW
If you have any questions about treatment or you would like to explore some of these treatment options more in-depth, contact us today!
1. ELASTICS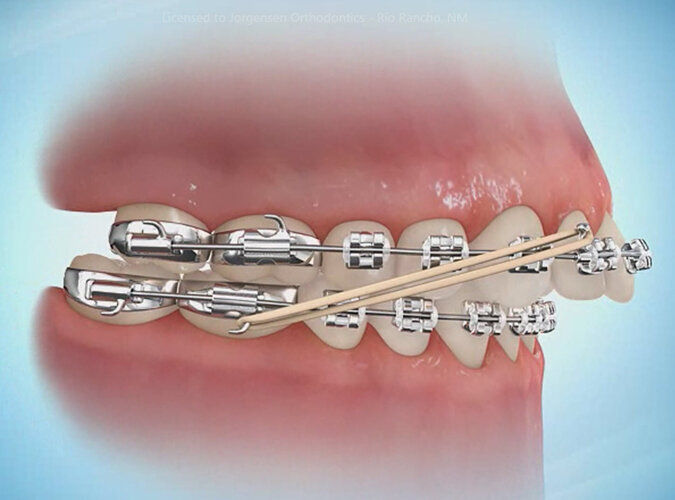 Elastics are an adjunctive part of orthodontic treatment. They are small rubber bands in varying amounts of force that can be used with Invisalign or braces. We utilize elastics with orthodontics in order to correct any misaligned teeth. A good way to understand the importance of elastics is that while braces and/or Invisalign aligners can straighten your teeth, it is actually the elastics that will fix your bite.
This is true whether your have an underbite, "overbite" (what orthodontist typically describe as an overjet), or an open bite. Without dedicated elastic wear you will have nice straight teeth, but they likely won't fit or function well for you. If you have been told that you need to wear elastics, it is important that you follow through with treatment.
2. INVISALIGN
Patients who seek out orthodontic treatment are often happy to learn that there is a clear solution to braces. They feel an instant relief of stress and embarrassment when they know they can straighten their teeth invisibly. In the last few years, there have been many advancements in the Invisalign aligners that allow you to get a straight and beautiful smile.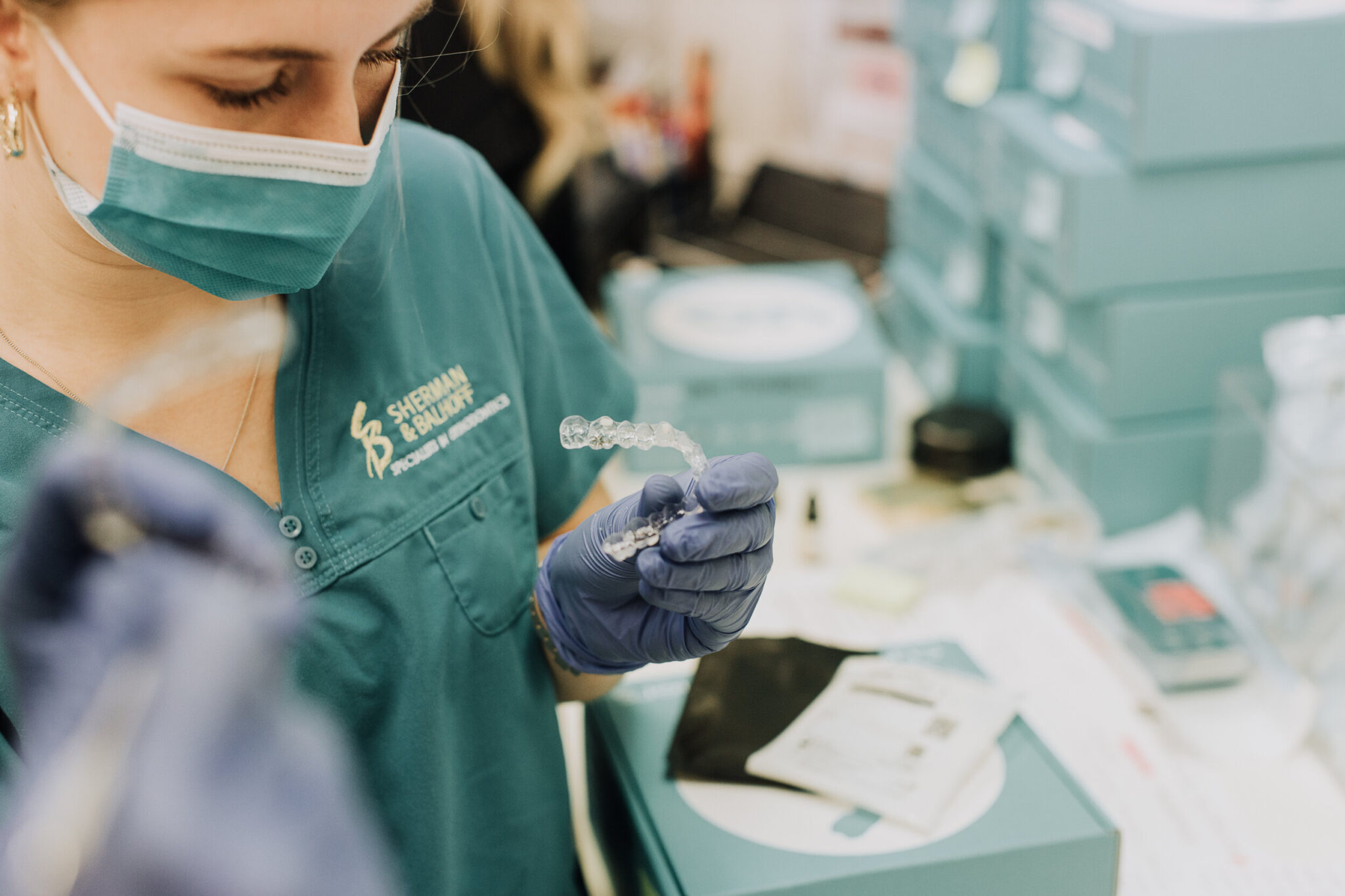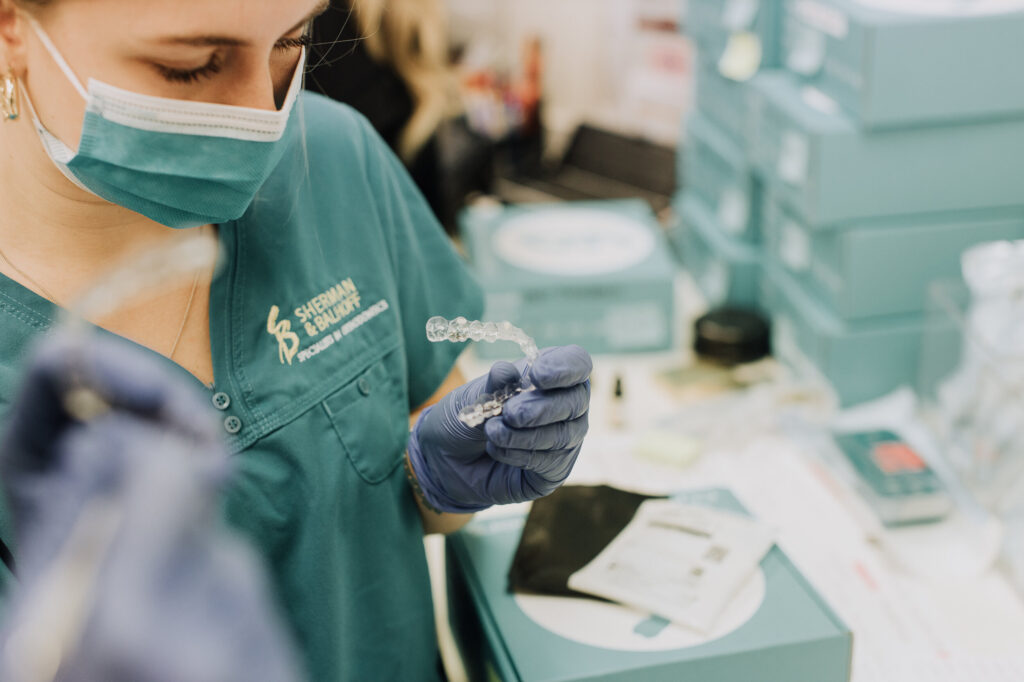 Many patients wonder if Invisalign actually works. If used correctly, the treatment works well. It is an easy to use solution, but it is important that you work with a trained orthodontist because there is a specific skill set needed to move the teeth properly in the mouth.
Invisalign works great for many patients and is ideal for those patients who have a mild to moderate spacing in their mouth. The jaw of the patient should be considered aligned or very close to perfectly aligned and the aligners can help with crowding issues in the mouth too.
If a patient has an overbite or large jaw discrepancies, they may not be able to use this treatment modality. These types of situations typically require traditional braces, but sometimes we can do a hybrid treatment so you may not have to wear braces the entire treatment time and can change to Invisalign once the more difficult corrections have been made in braces. Every person's mouth and bite are individual to them so if you have questions on whether Invisalign or hybrid Invisalign/braces would be a good option for you please call us!
3. TMJ PROBLEMS
The temporomandibular joint or your TMJ is one of the most complex and unique in the body. This is because it is responsible for multiple movements and functions. This joint is required for eating and speech. TMJ problems are important to our doctors, because they understand the pain that it causes.
The term TMJ is a broad term to encompass many different problems. Often times, the issues are related to stress, the bite of your teeth, and your hormone levels. There is a strong correlation between the teeth and the jaw joints, so it is important to know that orthodontic treatment can help in many cases. Our team understands the role and anatomy of the jaw joint, so we can provide you with effective treatment.
When exploring TMJ, you must know that there are two different bites that the jaw is able to close into, which includes the best fit for the jaw joint or the best fit for the teeth. The two do not often go hand in hand. When there is an issue with the two, the body's tolerance to overcome it may be weakened and this can lead to TMJ pain and/or lock jaw.
The goal of orthodontic treatment is to make sure that the bite and jaw joints are in their ideal position when the mouth is open or closed. This way, the discrepancy between the two bites is eliminated.
For a doctor to determine whether or not you have TMJ, you will need to use a bite splint. This is an appliance that works to simulate orthodontic treatment of the teeth. It specifically works to remove the teeth from the equation and allows the jaw joint to relax into its ideal position.
Some patients benefit from a bite splint while others may need additional treatment options.
4. PHASE 1 & 2
We are often asked what Phase I and Phase II are. It is a popular choice for orthodontic treatment in our younger growing population.
Phase 1 typically addresses disharmonies in jaw/skeleton growth in children aged 7-10. Many of the treatments prescribed in this phase of treatment are aimed at bringing better harmony in growth patterns between the upper and lower jaw and may consist of a palatal expander, headgear, retainers and/or braces.
Generally once these skeletal disharmonies are corrected there is a resting period of a few years before all the adult permanent teeth grow in. Our team of doctors monitor all her phase 1 patients during this growth and tooth eruption phase to make sure that the skeletal disharmonies treated in the first phase don't return. Once most if not all the permanent teeth have erupted typically around ages 11-13 we evaluate to see whether a second phase of treatment is needed. At this time if any skeletal imbalance has returned, and/or if the permanent teeth have spacing or crowding issues we would address them with either braces or Invisalign.
Timing of phase 1 and phase 2 is not set in stone. Every child grows slightly differently and a child's numerical age doesn't necessarily correlate with their dental age so it's important that a qualified orthodontists tailors a treatment plan to each individual child.